(BE PREPARED FOR A MASSIVE POST)

this sunday has been one of burnt fingers and scalded palms, through my own culinary
efforts! i admit, however, that my tastebuds are thanking me profusely as i lie, immobile from the over-cons
ump
tion of the fruits of my labour!

"reading week" traditionally translates as "procrastination week", so i cooked! and
baked! i've had an unerving addiction to wagamams recently (three times in 1 week) and it was a costly habit, so i
decided to make my own favourite dish: yasai katsu curry! after scouring the web for recipes (wagamamas seem to be very protective over their dish) i finally stumbled upon one here, on this lovely blog (THANK YOU WONDERFUL WOMAN, I PRAISE YOU! the recipe and instructions are all hers).
for your convinience, i've got the instructions below and a picture of my dish!

INGREDIENTS:




for the sauce:


- 2 ripe bananas
- 3 cox apples (peeled and diced)
- 3 garlic cloves
- 1 small onion
- 1 tablespoon of ketchup
- 2 tablespoons of honey
- 1/2 a tablespoon of tumeric
- 2 tablespoons of madras (hot) curry powder
- 2 tablespoons of butter
- 2 cups of vegetable stock
- 4 cups of water
- 3 tablespoons of cornflour
for the vegetables:
-1 sweet potato
- 1 butternut squash
- 1 egg
- 1/2 cup of flour
- 1 cup of breadcrumbs
INSTRUCTIONS:
1. in a large saucepan, melt the butter and then add the apples, bananas, o
nions and garlic
2. stir continually for 2 minutes, or until softened
3. add the three cups of water, ketchup, honey, tumeric and curry powder. stir
well!
4. simmer for 10 minutes, then add the vegetable stock, 3 tablespoons of cornflou
r and the remaining cup of water.
5. simmer for 30 minutes till thickened and reduced.
6. (here, the original recipe said to drain the liquidfrom solids through a col
ander, but i'm lazy so i didn't) so instead, i just whizzed the whole lot in a blender!
7. keep on a heat till ready to serve.
8. for the vegetables, cut the butternut squash and sweet potato into 1cm thick circles.
9. dip the slices in flour, then egg and finally the breadcrumbs.
10. fill a frying pan with oil, all over and fry the slices on both sides, until they are
really crispy and gorgeous.
11. drain on a paper towel and serve with rice and a green salad. drizzle over with the sauce and enjoy!

i admit, the sauce doesn't taste exactly like wagamamas, but it tastes delicious still anyway!


and for dessert, I made these gorgeous cupcakes following a recipes over
at Poodles an
d Pearls! they were the fluffliest, lightest cupcakes i have EV
ER made - it was like eating delicious chocol
atey air!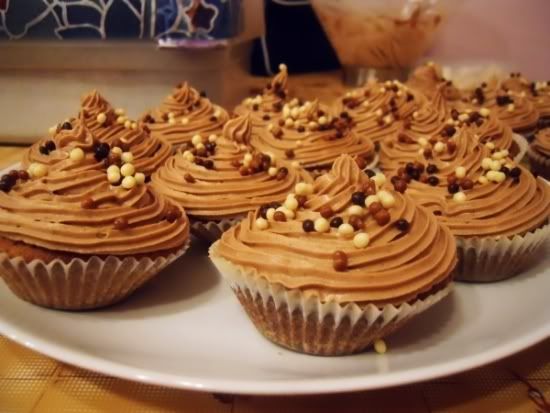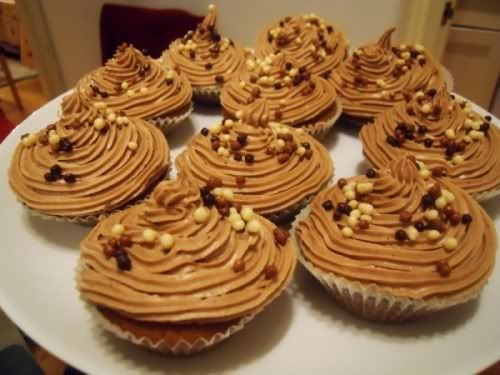 oh and over at The Freelancer's Fashionblog is a WONDERFUL giveaway! I remember reading on her blog a few months back about the jewelery at Hoocie Mama Jane and falling in absolute love with the earrings. so imagine my sheer DELIGHT when i see these gorgeous earrings are being given away!