little excitable me has been furiously watching youtube videos of halloween makeup, and the arrival of my contacts, (purchased HERE) resulted in me being unable to contain my excitment, and actually try out my vampire look.
naturally, when i actually venture out as a vampire, i shall be wearing my fangs, my black corset, my black pencil skirt and have copious amounts of fake blood trickling down my chin - we have guests this evening, hence the lacking of such items!

using michelle phan's tutorial as my source, i transformed plain little ol' me into a seductive (hah) , temptress of a vampire.
the products i used differed from michelle's, but only in these sense of brand, and i've provided a little picture and a comprehensive list.


face

-GOSH velvet touch primer

- GOSH x-ceptional wear foundation
- MAC prep+prime powder
eyes

- sleek pallette in "storm" to replace all the eyeshadows in the michelle phan video
- rimmel kohl eyeliner (not pictured)
- estee lauder projectionist mascara
- eyelure false eyelashes cut in half, no.100
lips

- revlon's matte lipstick in 010, wine not for 1st layer
- revlon's matte lipstick in 006, really red for second layer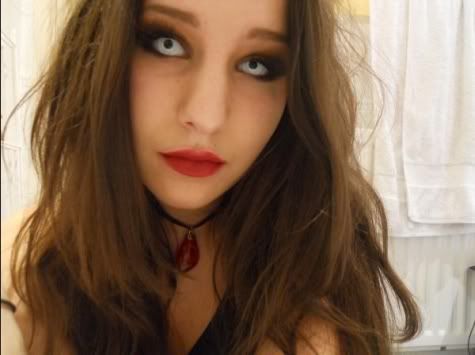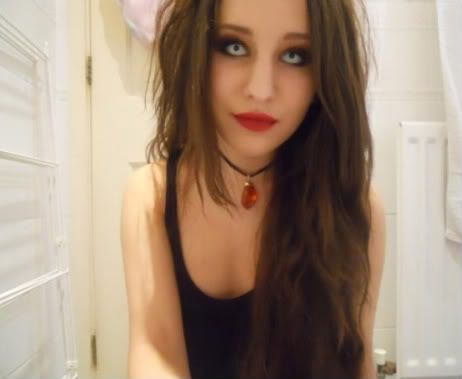 this is the first time that i've EVER worn contacts, and i couldn't bloody get them in! i had to hold open my eyes whilst my mother carefully put them in. they gave me blurry weird vision for about 20 minutes immediantly afterwards, but after that my vision was absolutely perfect. no irritation, nada.
i think contacts will be my new obssession - i desperately want a violet pair and ice blue ones.

what do you guys think? what are you planning to be for halloween?

ps.
Gem Fatale is having a wee giveaway HERE and the prize is a free manicure! i love the hot lips one personally, as i like the notion of having little weeny kisses all over my nails.