Shania Twain - Black Eyes, Blue Tears
just to clear up after a few questions from my last post and some confusion, i have not relocated to Poland forever - i'm merely here on my year abroad, so when i graduate i'll have a BA in History, with a year abroad, BIG YAY! it is cheating a bit seeing as i am a) already pretty much fluent in Polish and b) i have my whole entire family here (hence me living with my uncle in his HUGE house, complete with hot tub, sauna and gym HUHELLO beautiful body, mebs...). however, i wanted to spend time with my family who i don't see all that often, depsite being very close and also, i wanted an opportunity to improve my academic and written Polish, because even though my oral skills (<--- ahah, INYOURENDTHO) are really good, my writing, not so much!
plus, i've never really had the chance to explore Warsaw as an adult (18+), so i'm looking forward to getting to know the city :)!
in the meanwhile, as i'm getting my bearing and figuring out how to work my new camera (a Panasonic DMC-FS35 with Lumix lens if anyone is interested), i shall begin with a beauty post - ther are plenty of these to come, as i got a little homesick and did what any girl does when melancholy - i online shopped!
my skin started misbehaving a wee bit since my arrival, and was looking decidely grey and lacklustre so in my money-spending frenzy, i succumbed to something which has been on my to-try list for a long time - Clarins Beauty Flash Balm.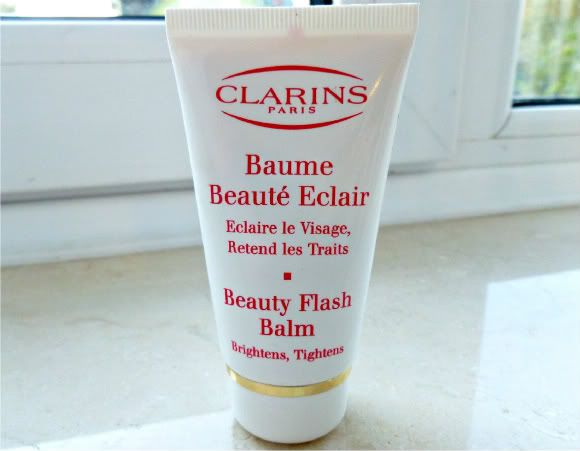 the aim of this product is to add a certain radiance to your skin, instantly making your skin look brighter and glowy and just NICE! certainly what my skin needs right now! it contains witchhazel and olive extract (both of which my skin likes!) and it can be used in two different ways;

i) as a radiance boosting facemask! i slathered on a thick layer of this balm on my poor, colourless skin and left on for 10 minutes, before rinsing away with warm water. my skin felt instantly softer, but, if i'm being honest (which i always am!), i didn't see a significant difference in the glowyness of my visage.
ii) underneath makeup, as a brightner and glow-giver! the preferred method is is pat this balm on after moisturiser and before foundation, then apply makeup immediantly. this is where the product really worked for me - i instantly had brighter, more radiant skin and it looked like it actually had some dimension (oh curse you mattifying foundations for your two-dimensional ways!). i've been using this on nights out, when i've been wanting that little boost to look a little more fresh and dewy.
it IS a very expensive product - i purchased mine at feelunique.com at £21.50 for 50ml, which definitely makes this a product to place on christmas lists, as i could practically feel my purse winicing! i have plenty more beauty product posts coming up, as i went a little crazy on feelunique.com (which, by the way, has plenty of products for slighter cheaperthe the RRP which are 100% genuine, and i was very impressed by how fast the products got over to me in Poland - about 5 working days?).
have you ever used a radiance balm? what beauty products do you rely on to get that GLOW?